Period in Oss
After his return to the Netherlands he was soon appointed to teach philosophy at the philosophicum in Oss and –schedule of classes permitting- to teach sociology. He would live in Oss for fourteen years. It became clearer and clearer that Titus could do anything he put his mind to. He took initiatives in various fields and got involved in all kinds of organizational and managerial activities.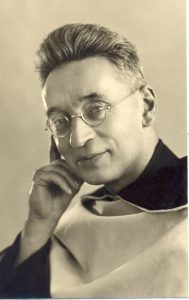 In 1919 he became the chief editor of the daily "De Stad Oss". He was asked, too, to become the director of the "Handelsdagschool" (a kind of business school). This marked the beginning of his great involvement in Catholic education in the Netherlands. In this time he also took the initiative for a public library, was active for the mission and he undertook the task of putting up a monument of Christ the King. In spite of all these activities Titus showed a deep concern for people he met and who called on him in many fields.
During his time in Oss his intensive involvement in the promotion and emancipation of the Frisian culture and language started. Titus had a sharp eye for the emancipation of the Frisian language in higher education. End 1918 he took a seat in the managerial board of the "Vereniging voor Hoger Onderwijs in het Fries" (The Union for Higher Education in the Frisian language).